Tours
Imperial Ionian
The tour takes place throughout the year, with similar arrangements.

1st day
Arrival at the International Airport of Corfu "Ioannis Kapodistrias". Welcome in the arrivals level from Darkas staff. Transfer to the five star hotel or Villa, arrival and immediate check-in. The procedures will be completed by the interpreter-tour guide. Tour around the hotel and delivery of full traveling documentation. If you wish, the vehicles and the company's staff will be at your disposal for your evening out. Dinner will be provided at the hotel's restaurant, in your villa or in restaurant (your choice with our staff) accompanied by excellent wine. Return at the hotel when desired.
---
Athens Tour "3 Days"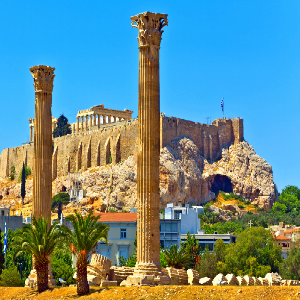 Day 1: Get your bearings of the city
Breakfast: Walking tour with Athens : We go on a walking tour your first morning in the city so you could get some background info and get a feel for navigating the city. Your guide Show up at the hotel before 10 am. Tour last aprox. 3 hours, take you to all of the archaeological sites in Athens. Your guide, will be incredibly knowledgeable and gave you really good advice on how to spend our free time in Athens.
Epidaurus, Nafplio & Mycenae


Take a step back from the modern world and enter into the land of gods, emperors, and gladiators, in this full-day tour of ancient Greece. Step inside the famous Epidaurus theatre, which is renowned for its perfect symmetry and exceptional acoustics, and the Archeological Museum of Epidaurus, opened in 1909 to display ancient artifacts unearthed from the surrounding area.
Santorini Experience

Day 1- Island Tour
Whether you have just arrived in Santorini and want to spend a day visiting the must-see places, or you feel that you have seen it all and want to experience a relaxing day on a private basis, we invite you on a journey around the magnificent island of Santorini.
Greece on your Hands

Discover the very best of the Greek Islands on this fourteen day tour around the most noted island in the Aegean Sea. This tour is a wonderful mixture of guided tours, discovering places on your own, ferries to exotic destinations and above all, relaxation.